Before we get to the Friday Fill-Ins, I want to let you all know, not that you have to go look or anything or that I'm tooting my own horn, but, um…a picture of mine is being shown over at Allison and Jenn's blog, Looking Into.
Every so often, they feature different photographers; I do believe I clicked on their site from Greeblemonkey's one day…and loved the idea of what they're doing! I emailed them towards the end of January…and of course their answer to me went into my spam folder
But Allison and Jenn did not give up! They wrote a follow-up email, which I received and out of the five pictures I originally sent them, chose two. The first photo is up today; the second one will be shown on March 28th. If you do come visit, take a look at the other featured photographers; they're amazing! Thanks, Allison and Jenn! I included a quote in one of my emails to you…I'll show it here:
Everything has its beauty but not everyone sees it. – Confucius
You guys see it! Thanks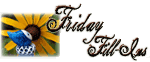 You can find the Friday Fill-Ins here!
1. Contact may cause hilarity!.
2. The parties hereto do mutually agree stop talking.
3. Disney parks are SO much fun!.
4. Diet sprite and OJ (lots of pulp, please) sounds really good right about now!
5. I positively vow to enjoy life as much as I can.
6. Captain Jack Sparrow always makes me smile

7. And as for the weekend, tonight I'm looking forward to relaxing, tomorrow my plans include more relaxing and Sunday, I want to go to the Flower Show with Diane & Chloe!
Posted in Friday Fill-Ins, Looking Into | 20 Comments