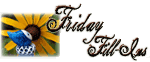 1. Wouldn't it be easy to love people instead of hating them; to be kind instead of unkind; to be positive.
2. Chemo's back…and better than ever! [NOT!!!]
3. I love the taste of my cousin's moonglow pickles.
4. Right now there is a snoring shiba in the living room.
5. The first thing we're going to do is roast some winter vegetables.
6. My nose goes drip, drip, drip; you'd think Day Quil would work better.
7. And as for the weekend, tonight I'm looking forward to making a pot of chili and a pan of cornbread, tomorrow my plans include hopefully feeling good enough to go to Megan's book party and then dinner with Michelle and Sunday, I want to be rid of this cold!

Anyone want a cuppa tea?
Posted in Friday Fill-Ins | 11 Comments