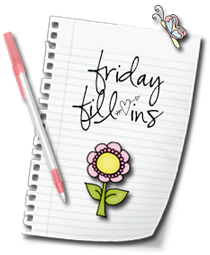 Graphic courtesy of
Tonya
!
And…here we go!
1. It's time for all of us to be more positive.
2. My new home; it's not a bad place for friends to visit, the kitchen is fantastic to cook in, and I have a spare room…come visit.
3. I must be CRAZY to think I can handle this on my own
4. My time in Japan is the best thing I have ever known.
5. My life is simply upside down lately.
6. The last time I laughed really loudly was when I saw a big ole dog laying on top of a picnic table…he took up the whole top and it looked so funny.
7. And as for the weekend, tonight I'm looking forward to being unhooked from my chemo bag, tomorrow my plans include something spontaneous and Sunday, I want to possibly go to Ikea!

Saw this behind a Wendy's Thursday…I once thought I'd want a thistle tattoo
Posted in Friday Fill-Ins | 12 Comments