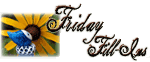 You can find the Friday Fill-Ins here!
1. I'm looking forward to taking a short vacation next week.
2. I don't handle stress very well.
3. Sushi is something I could eat every day.
4. Warmth and sunlight are two things I'm looking forward to.
5. Florida, here I come!
6. I want another tattoo.
7. And as for the weekend, tonight I'm looking forward to packing, tomorrow my plans include cleaning, walking the dogs, packing and Sunday, I want to go to a bridal show with Megan (really!)!
Posted in Friday Fill-Ins, Photos | 20 Comments