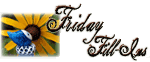 You can find the Friday Fill-Ins here!
1. Reading a good book makes me happy.
2. I would like someone to take care of me, please.
3. Golden French Toast coffee from Green Mountain tastes SO good!
4. Saturday is my favorite day of the week because the whole day belongs to me, as does the next day.
5. My right leg is my best feature.
6. We could learn so much from each other, if only we opened up.
7. And as for the weekend, tonight I'm looking forward to feeling better and reading, tomorrow my plans include reading and Sunday, I want to get my voice back!

The new Valentine's Day poppet arrived and Skelly's unsure of this new development…I think he thinks she's a bit of a princess!
Posted in Friday Fill-Ins, Photos, Project365 | 18 Comments