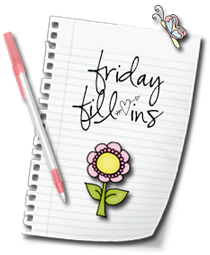 Graphic courtesy of Tonya!
And…here we go!
1. He was a a very good man, my Dad.
2. The smell in the air is what I look forward to most this time of year.
3. My best friend is my camera, or maybe my shiba…hmmm...
4. I don't like to play favorites to be honest with you.
5. Appearances can be only the tip of the iceberg.
6. The last person I gave a hug to was the radiology tech.
7. And as for the weekend, tonight I'm looking forward to hanging out with Eileen, tomorrow my plans include possibly seeing my cousin and Sunday, I want to hang with Karen and see JMB!

another thing to love about this time of year…pumpkin ice cream!
Posted in Friday Fill-Ins | 11 Comments