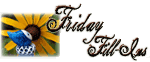 You can find the Friday Fill-Ins here!
1. Birthdays are something worth celebrating! If I love someone (including myself), I want to acknowledge that person's existence on this planet and what better day then the day they were born.
2. Autumn is my favorite season because it has my favorite holiday, the leaves are gorgeous and the air has a certain tangy chill to it.
3. I feel my best when I'm happy and not under a lot of stress.
4. Lately, sourdough toast is my favorite food!
5. First impressions are sometimes not the best thing to base an opinion of a person on.
6. The best piece of advice I ever received was from my Nana; I complained to her one day that I was bored and she replied, "If you're bored, you're boring." Harsh, yeah, but you know what? I NEVER complained that I was bored again! And really, I never have been…there's always something to occupy one's imagination…unless you're in a padded room...
7. And as for the weekend, tonight I'm looking forward to being incredibly lazy and possibly reading a good book, tomorrow my plans include going to a yard sale and Sunday, I want to be able to meet up with Lauren for lunch and to enjoy another day off from work!
Questions courtesy of Jennifer this week; thanks, Jennifer!
Oh, one last thing; Sherry over at Yellow Roses Garden wanted to see our favorite coffee mugs. Mine's new, my friend Azzy gave it to me for my birthday. Here 'tis:

It's Cancer the Crab, my astrological sign and this is one huge mug! I mean…I could drink a rum & coke outa this sucker! It's more of a flagon! But I love it. Thanks, Azzy!
Posted in Friday Fill-Ins, Photos | 29 Comments