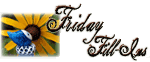 You can find the Friday Fill-Ins here!
1. For me practicality is the opposite of creativity.
2. Change of Heart by Jodi Piccoult was the last excellent book I read was.
3. I like fill-ins because they're fun.
4. In nature I like looking at almost everything.
5. Barack Obama should win the US elections.
6. The last time I laughed with all my belly was probably when Wolf did something funny.
7. And as for the weekend, tonight I'm looking forward to maybe catching a movie, tomorrow my plans include taking pictures for Round Robin and Sunday, I want to laze around the house!
Posted in Friday Fill-Ins | 16 Comments