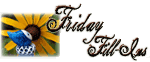 You can find the Friday Fill-Ins here!
1. Two of my favorite ingredients in a drink are olive juice and vodka!
2. The weather often amazes me.
3. You can keep doing that forever, the dog is not going to move.
4. Take some coffee ice cream and some milk, mix it all together and voila! You have a coffee Fribble!.
5. If I had a yard with a garden, I would love to grow all sorts of vegetables.
6. Fresh vegetables is are best au naturel.
7. And as for the weekend, tonight I'm looking forward to relaxing, tomorrow my plans include going to a candle party and Sunday, I want to clean and take the dogs for a good long walk!
Posted in Friday Fill-Ins | 21 Comments