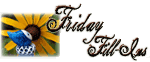 You can find the Friday Fill-Ins here!
1. Last night I saw Kevin James on a Segway at the local mall (they're filming a movie called "Mall Cop" there).
2. The song, Dancin' Days by Led Zeppelin makes me wanna dance!
3. Splitting a few appetizers between friends is more fun cause you get lots of tastes of different things!
4. Barack Obama is someone I'd like to get to know better.
5. The smell of lilacs reminds me so much of springtime!
6. He put a Pirate bandaid on her skinned knee and that made it all better.
7. And as for the weekend, tonight I'm looking forward to reading, tomorrow my plans include reading some more and maybe taking the dogs to the beach and Sunday, I want to clean while my brother takes Dad out for the day; that evening I'm going to see Ray Davies!
Posted in Friday Fill-Ins | 18 Comments