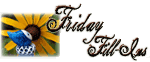 You can find the Friday Fill-Ins here!
1. Some relationships are meant to be strong enough to last a lifetime; others are not.
2. Hall & Oates is the last concert I saw; it was in December and they sang Christmas carols. I loved it.
3. Spring should be warm and filled with blossoming flowers and budding trees, not freezing cold with a chance of snow.
4. Oh no! I forgot where I put the Robert Plant/Allison Krauss tickets!
5. I've recently started Twittering; come follow me.
6. The British TV show, As Time Goes By never fails to make me smile.
7. And as for the weekend, tonight I'm looking forward to reading a new vampire book, tomorrow my plans include getting my hair permed and seeing Q and Sunday, I want to have a coffee and hang out with Michelle for a bit!
Posted in Friday Fill-Ins | 18 Comments