Before I get into this, I gotta say…I'm glad to see January go! This crud I've had for a week and two days has really put a damper on things. I can barely breathe, which makes any form of hard exercise not such a good idea. Poor Wolf is quite disappointed and looks sadly outside, wondering when he'll get to go on a walk. Soon, Wolf, soon! The doctor FINALLY called in a prescription for antibiotics today and some Mucinex. I didn't want to buy it, because I cannot STAND the stupid ads for this medicine, but I caved and it does work! Now, if only my sense of smell would come back!!!
My two flickr projects, "One Object – 365 Days" (366 this year, hehehe) and "Project365″ wherein I design and take a picture each day is going well. Today begins the second month of Project365 and the second week of One Object. I'd like to share with you one favorite picture from each.
From One Object:

I like this one cause…well, it's the Beatles. LOL! Why else!
From Project365:

Capt. Jack, of course, with his speared lobstah (or lung, as some folks pointed out it looks like). I want you to know this statue is in my office and the lobstah is still on his sword…looking mighty shrunken, but still hanging in there. Man…if my boss ever came in my office and really took a good look around…LOL!
Without further ado, here we go!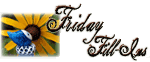 You can find the Friday Fill-Ins here!
1. Once I was full of doubt, but it's all leaked out.
2. I'm sick of being sick.
3. Today at work I am hoping to finish up some things I've been ignoring lately.
4. What's Lost all about?
5. If I make a mistake I usually own up to it and try to fix it.
6. When I woke up this morning, I thought omg I can BREATHE.
7. And as for the weekend, tonight I'm looking forward to feeling better, tomorrow my plans include doing some shopping for the stuff I'll be cooking for the superbowl get together at my brother's house and Sunday, I want to walk Wolf and Max, read and catch up on reading blogs while Dad & Larry are watching the game!
Posted in Friday Fill-Ins, One Object 365 Days Project, Photos, Project365 | 15 Comments