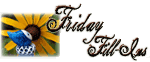 1. The lesson I learned yesterday was put the fill-ins up while I'm thinking about it.
2. Parties, restaurants, churches, homes, beaches: All of these are where friends and family meet.
3. All these years later and I'm still right, damn it all.
4. I was on time when I arrived.
5. The truth is I used to always be late…but not so much anymore.
6. A bright blue sky filled with puffy white clouds is what I remember most from that day.
7. And as for the weekend, tonight I'm looking forward to the Harry Potter exhibit at the Museum of Science, tomorrow my plans include game night! and Sunday, I want to win a million dollars, but most likely I'll be meeting a friend I haven't seen since the mid-1990s for lunch and meeting another friend for dinner!

I love the color in this shot and wanted to share. My nana made this many years ago and still the colors are vivid and the blanket used.
Posted in Friday Fill-Ins | 11 Comments