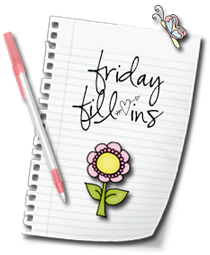 Graphic courtesy of
Tonya
!
And…here we go!
1. I have a history of oh so many different things.
2. The true state of my health is something I wish I knew.
3. I'm eating (or recently ate) pretzel sticks.
4. I'd love, once again, to be on the road.
5. So that's it, that's all the cookies.
6. One of something is better than nothing!
7. And as for the weekend, tonight I'm looking forward to chilling, tomorrow my plans include this and that and Sunday, I want to chill some more!
Posted in Friday Fill-Ins | 7 Comments