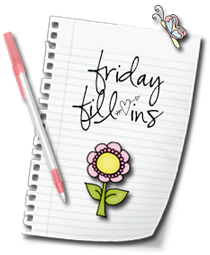 Graphic courtesy of
Tonya
!
And…here we go!
1. One week ago I was cleaning my childhood home, frantically getting it ready for its new owners.
2. Apparently, I had a thing for unicorns when I was young.
3. Mama told me to stop bringing kittens home.
4. I have many fond memories of you and me.
5. Take your time look around, smell the roses AND the coffee, enjoy being alive.
6. Anger and sadness, in time, will pass!
7. And as for the weekend, tonight I'm looking forward to hanging with my chicks, tomorrow my plans include doing a bit of shopping for clothes and hanging out with Karen in the evening and Sunday, I want to see Michelle!

I saw this at Old Navy last Friday night…we stopped in there so I could get a hoodie, since it was freezing out and I'd left mine at the old house. Isn't it adorable??!
Posted in Friday Fill-Ins | 10 Comments