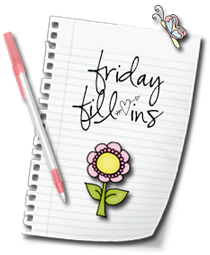 Graphic courtesy of
Tonya
!
And…here we go!
1. My car is fixed and alarmed and back with me (course I'm out $300 for the deductible, $216.88 for the alarm & installation and while I was at it I had them do an oil change for $33.23. When they did that, they give the car a good going over and discovered the brakes are badly worn [Dad always said I used the brakes too much] and two tires should be replaced before winter. Luckily, they gave me a GREAT quote for it–$861.35 + tax. If any of you are in the Lowell area and need any car work done, look up Hamel Brothers…they're fantastic!).

Insurance paid for most of it!
2. Selling the house is coming up next.
3. Lately, things seem to be taking a turn for the better (knocking on wood!).
4. My car is one of my favorite 'hiding' places.
5. What happened to Wolf? Oh, it's another fly.
6. Positivity is not impossible!
7. And as for the weekend, tonight I'm looking forward to relaxing after a long day of packing and cleaning (thanks Diane), tomorrow my plans include more packing and cleaning (thanks Megan & Tara!) and Sunday, I want to be done with cleaning and packing!
Posted in Friday Fill-Ins | 11 Comments