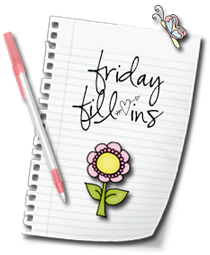 Graphic courtesy of Tonya!
And…here we go!
1. That's a positive way to be.
2. Sandman; I'm over here!
3. The possibilities include: oh so many things if you can only open your eyes.
4. Beef stew is one of my favorite cool day recipes.
5. How will you know you're doing the right thing.
6. I so enjoy darkness and a stormy sky.
7. And as for the weekend, tonight I'm looking forward to hanging out with Lauren, tomorrow my plans include cleaning and packing up things at the old house and Sunday, I want to be done with cleaning and packing!
~~~~~~~~~~~~~~~~~~~~~~~~~~~~~~~~~~~~~~~~~~~
Photohunt courtesy of TNChick:


It was a dark and scary night…
Posted in Friday Fill-Ins, Photo Hunt | 12 Comments