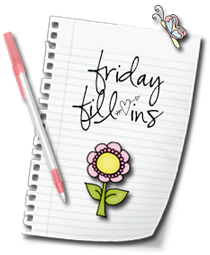 Graphic courtesy of Tonya!
And…here we go!
1. I feel hopeful.
2. Going to the ocean is always fun.
3. Right now, I can hear these things: the tv, the washer, crickets.
4. It feels like fall and I'm glad it's my favorite time of year.
5. The last time I went to the ocean was before I was diagnosed with cancer.
6. I'm thankful that Heather is coming to visit this Labor day weekend.
7. And as for the weekend, tonight I'm looking forward to The Dog Whisperer, tomorrow my plans include Apples to Apples with Heather, Tim, Megan & Tara and Sunday, I want to relax, read and maybe head to the beach!
Posted in Friday Fill-Ins | 8 Comments