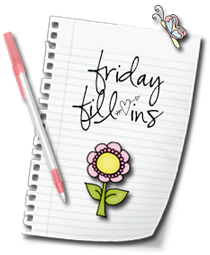 Graphic courtesy of Tonya!
And…here we go!
1. When will I get to have a twirly dog again?
2. The Poisonwood Bible / Julia & Julie / 30 Rock was the last good book I read or movie I saw or tv show I watched.
3. Everything has its beauty but not everyone sees it. [Confucius]
4. Fage 2% yogurt with honey is what I had for dinner.
5. I'd like your true friendship.
6. on a beach is where I want to be right now.
7. And as for the weekend, tonight I'm looking forward to maybe seeing The Half-Blood Prince with my friend Alexi…if not, then possibly out with Megan, tomorrow my plans include hanging out with my friend Maureen and Sunday, I want to take Mo to breakfast, and Megan out for her birthday dinner!

shadows
Posted in Friday Fill-Ins | 21 Comments