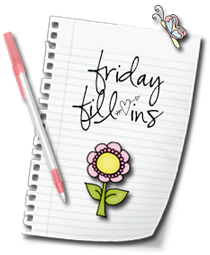 Graphic courtesy of Tonya!
And…here we go!
1. Corn on the cob is my favorite summertime treat.
2. My favorite John Hughes movies is Ferris Bueller's Day Off.
3. Soft cotton is something I love to touch.
4. The full moon shines in my kitchen window, making lovely shadows.
5. I wish I was swimming in the ocean right now.
6. When daylight fades the vampires feel free to roam about again.
7. And as for the weekend, tonight I'm looking forward to meeting two coworkers for dinner, tomorrow my plans include maybe seeing Julie & Julia and Sunday, I want to make these cookies!
Had my friend Pat over for dinner Thursday night; I made lasagna (pureed the cooked sausage…made for an interesting sauce). For dessert we had this:

rhubarb pie (from a bakery in Somerville called Lyndell's) and fresh home made (by me!) strawberry ice cream
Posted in Friday Fill-Ins | 21 Comments