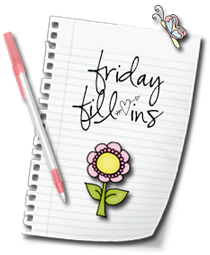 Graphic courtesy of Tonya!

You can find the Friday Fill-Ins here!
And…here we go!
1. A diagnosis of cancer is not the end of the world.
2. Sitting here, listening to the sound of rain falling, I enjoy every minute of it (I've got a warm shawl to throw over my shoulders thanks to my cousin, Mel, altho … a shawl in July? WRONG!!!).
3. Vermont maple syrup…homemade strawberry ice cream…fresh picked blueberries; whichever, it all tastes so good!
4. Sometimes, putting others first is is more important that being right.
5. This preview is breathtaking, really. (omg I CAN'T WAIT!!!)
6. Well, maybe there is a reason for celebration, after all.
7. And as for the weekend, tonight I'm looking forward to recuperating from day surgery to have a port implanted under my skin, tomorrow my plans include an MRI AND a CT scan, lucky me and Sunday, I want to go to the Folk Festival in Lowell!
I'd like to thank all my friends who have been here for me recently, both friends I've met and friends I haven't met yet, but have gotten to know via my blog. I appreciate your kind words, your helpfulness, your humor more than you will ever know. This picture is dedicated to all of you:

Thank you!
Posted in Friday Fill-Ins | 24 Comments