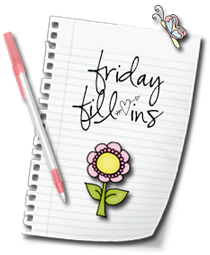 Graphic courtesy of Tonya!

You can find the Friday Fill-Ins here!
And…here we go!
1. Salsa and Trader Joe's Flax Seed Nacho Chips make a quick and easy dinner.
2. Just After Sunset by Stephen King (he's outdone himself!!!) is the book I'm reading right now.
3. July brings back memories of family vacations down the cape with my cousins, going swimming every day, ice cream, blackberries, my Uncle's delicious crepes
4. Why I went to Mass General Hospital yesterday was obvious.
5. They say if you tell your dreams they won't come true.
6. Lately, I've found I really need some time to think it over.
I'm sorry I haven't been around much…I've been out of work due to medical issues which I'm sure I'll be writing about soon, since it's about to become a battle that I need to win to survive. This has been taking up all my spare time and in my down time, I'm so tired I just want to veg. But I'm saving all the posts in my google reader, cause I know while I'm recuperating, I'll have LOTS of time to read!
Here's a shot of my first cooked breakfast in my new condo (yes, I moved in the middle of the health issues…it's no fun if you don't have TONS of things going on at once, she said, very sarcastically):

excuse the paper plate…all my dishes were in the dishwasher!
Posted in Friday Fill-Ins | 22 Comments