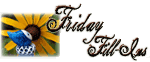 You can find the Friday Fill-Ins here!
1. If I could travel back in time, I'd go to 1986 and that's all I'm saying about that.
2. Give me a dirty martini or give me some rum.
3. I am listening to Heartbreaker by Led Zeppelin.
4. Somewhere, someone is thinking about this and that….
5. I'll always be me, til I'm not me anymore.
6. My idea of a good time includes so many different things…or maybe just a good book.
7. And as for the weekend, tonight I'm looking forward to relaxing after work, tomorrow my plans include reading "Breaking Dawn", the last book in the Twilight series by Stephanie Meyer and Sunday, I want to probably finish reading Breaking Dawn LOL!
I did a bit of a collaboration recently with Quixotic Miss (click on that link, there's some really cool news there regarding one of my favorite actors, which I was JUST saying he would be great as last Friday night), and here's the result!
Posted in Friday Fill-Ins | 32 Comments