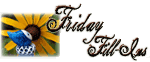 You can find the Friday Fill-Ins here!
1. I believe whatever doesn't kill you simply makes you… stranger.
2. If you're good at something, never do it for free.
3. Why so serious?
4. Something is out there, it's just beyond the edges of my vision.
5. If my life were a sitcom, it would be titled Never Bored.
6. Sitting on my back porch [if you don't have one, use your imagination] I see skeletons and ghosts frolicking in the light of the full moon.
7. And as for the weekend, tonight I'm looking forward to seeing one of my favorite movies, Harold and Maude with Megan in Boston (if the rain stops), tomorrow my plans include giving Wolf a bath or perhaps dropping him at the groomers, also getting him weighed (he's been on a diet) and Sunday, I want to clean off the top of the dining room table (I really don't WANT to, but it needs it)!
Posted in Friday Fill-Ins | 23 Comments