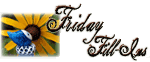 You can find the Friday Fill-Ins here!
1. A smile is contagious and will make you and everyone around you feel better.
2. Apples to Apples is my favorite board or card game.
3. I would love to have more love in my life and less stress.
4. When I think of the Summer Solstice, I think of warm nights, ocean tides, fireflies and celebrations.
5. I just remembered I need to write down a recipe I came up with tonight (and it was good!).
6. One of my favorite song lyrics goes like this: If I was to walk into your life, would I bring these troubles of mine / How can I try to find me a new life, how could i leave this one behind / Oh the summer's too hot to handle, crashing waves and steam / a full moon and a flickering candle / raise the ghost of an ancient dream / summer summer oh summer .
7. And as for the weekend, tonight I'm looking forward to the start of my birthday weekend, which begins with Megan & dinner & I'm sure, a wicked dirty martini, tomorrow my plans include a photo expedition, I think and Sunday, I want to go to breakfast with Dad & my brother, then head up to my cousin's house to spend my actual birthday with her!
Posted in Friday Fill-Ins | 29 Comments