I want to thank all of you who sent your good thoughts, your kind (and helpful!!!) emails. Dad's feeling MUCH better. The visiting nurse came in this morning and talked with him for a long while. The physical therapist also visited; she said he did well with the exercises and taught him an easier way to get in and out of bed. I have to get a handle tomorrow, which will help even more.
So he enjoyed this perfect summer's day with a good book and a comfy chair…and lots and lots of water!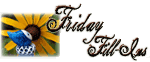 You can find the Friday Fill-Ins here!
1. Driving across the US is high up on my bucket list.
2. My favorite quote is Everything has its beauty but not everyone sees it.; it's from Confucius.
3. My friend, Megan, inspired me to start blogging.
4. Strawberries are best eaten on freshly picked on a hot summer's day *but not TOO hot*.
5. Wolf was in the last dream I remember having.
6. The most enjoyable time to go for a walk is at twilight; there's usually a feeling of calmness and peace then.
7. And as for the weekend, tonight I'm looking forward to sleeping, tomorrow my plans include more sleeping and Sunday, I want to catch up on my sleep!
Posted in Friday Fill-Ins | 34 Comments