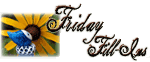 You can find the Friday Fill-Ins here!
1. Idle hands are great for holding books.
2. I love spider-free zones in the shower.
3. My favorite time of the day is when I go to bed.
4. The last tea I drank was english breakfast … yum.
5. I like to take long walks in the woods in the Summer.
6. My mother always said I had champagne tastes on a beer budget.
7. And as for the weekend, tonight I'm looking forward to going out for drinks with my boss and birthday girl Eileen, tomorrow my plans include possibly shooting some engagement photos and then going to a baby shower and Sunday, I want to relax and weed the garden!

Robert Plant and Allison Krauss were amazing Thursday night! They did a ton of songs off their new CD; three Led Zeppelin songs, "Black Dog", "The Battle of Evermore" and "When The Levee Breaks"; and a song from one of his solo albums (The Principle of Moments ), "In The Mood". They also did a tribute to Bo Diddley…Plant was in fine voice and a good mood, just a great, great show
Posted in Friday Fill-Ins, Photos, music | 28 Comments