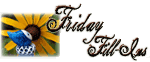 You can find the Friday Fill-Ins here!
1. When I fell in love I was blinded to any and all of his faults!
2. I'm happy after a long winter when the flowers bloom and it heats up outside!
3. Oh no! The internet connection is down, I'll actually get some work done.
4. My Name is Earl is the craziest tv show ever.
5. Cheese and crackers (anything, really, I puffy pink heart cheese) make a great meal!
6. My cousin plans on planting a garden.
7. And as for the weekend, tonight I'm looking forward to a chocolate party (I made rice krispy treats with chocolate nibs and Heath Bar toffee bits), tomorrow my plans include photographing some spiced nuts for a friend of a friend who runs a business from her home and Sunday, I want to relax and read in the yard!
Posted in Friday Fill-Ins | 19 Comments