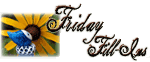 You can find the Friday Fill-Ins here!
1. The last time I lost my temper I was Thursday morning…it wasn't pretty!
2. Sometimes, life is what I'm fed up with!
3. The next book I'd like to read is whatever's on top of the stack.
4. My own home is what I'm looking forward to.
5. If you can't get rid of the skeleton[s] in your closet, you might as well teach it [them?] to dance!
6. The best thing I got in the mail recently was chestnut honey from Italy…yum.
7. And as for the weekend, tonight I'm looking forward to crepes & seeing the movie "The Ruins" with Lauren, tomorrow my plans include Kristaloo's adult toy pahty and Sunday, I want to have fun shooting pictures of a spiced almond business Monique hooked up for me!
Because I can't get this little ditty out of my head (no, it's not the Oscar Meyer weiner song), I thought I'd pass it along. It's all Krista's fault, really.
Posted in Friday Fill-Ins | 28 Comments