1. Snow is really pretty but dang, c'mon now, enough is enough.
2. I'm looking forward to seeing Sweeney Todd: The Demon Barber of Fleet Street.
3. Salty chocolate is the best chocolate ever!
4. One of my favorite old tv shows is The Munsters [been watching TV Land while I've been home sick].
5. I'm done with my Christmas cards (finally!).
6. The most enjoyable thing around the holidays is doing things with friends and family .
7. And as for the weekend, tonight I'm looking forward to seeing Johnny Depp Sweeney Todd!!!, tomorrow my plans include going out to dinner with a friend and Sunday, I want to finish shopping and buy stuff for dinner on Tuesday!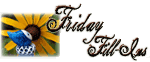 Friday Fill-In
Posted in Uncategorized | 16 Comments