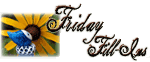 1. Away in a manger, no room for a diaper genie.
2. Dashing through the snow, in a sports car that needs new tires is scary.
3. Hark! The herald angels call to me.
4. It's coming on christmas and I can't wait.
5. When I was small I believed in Santa Claus, Though I knew it was the tooth fairy in disguise.
6. That Christmas magic's brought this tale to Maryland for the weekend.
7. And as for the weekend, tonight I'm looking forward to seeing Enchanted with MaryEllen, tomorrow my plans include visiting the Corcoran and going to a Christmas party at a swanky hotel in DC and Sunday, I want to not have to drive in a raging snowstorm on the way home!
Posted in Uncategorized | 13 Comments